CT Fletcher is a legendary figure in the world of bodybuilding and fitness. He is a former powerlifter, bodybuilder, and three-time world bench press champion. CT Fletcher is known for his incredible strength, and his inspiring messages about perseverance, hard work, and dedication. His story is one of overcoming adversity and becoming one of the most iconic figures in the fitness industry.
Early Life
CT Fletcher was born on June 8, 1959, in Pine Bluff, Arkansas. He grew up in a small town and was raised by his mother, who worked as a nurse. CT's father was not a part of his life, and he was often bullied as a child. As a result, CT developed a tough exterior, and a fierce determination to succeed.
CT discovered his love for weightlifting at a young age and began training in the gym when he was just 10 years old. He quickly became obsessed with the sport and spent all his free time lifting weights and working on his strength.
Powerlifting Career
In the early 1980s, CT began competing in powerlifting competitions. He quickly established himself as one of the strongest lifters in the sport and set several world records in the bench press. CT won three world championships in the bench press and was widely considered to be one of the greatest powerlifters of his time.
Bodybuilding Career
After retiring from powerlifting, CT turned his attention to bodybuilding. He began competing in the late 1980s, and quickly established himself as a force to be reckoned with. CT's massive size and incredible definition made him one of the most impressive bodybuilders of his time.
In 1991, CT won the World Muscle Power Championship, and in 1995, he won the Mr. California title. He continued to compete in bodybuilding competitions until the late 1990s, when he retired from the sport.
YouTube Career
In 2010, CT began posting videos of his workouts and motivational speeches on YouTube. His videos quickly went viral, and he became a sensation in the fitness community. CT's videos were known for their inspiring messages and his incredible feats of strength.
In 2013, CT suffered a major heart attack, which nearly killed him. He underwent several surgeries and was told that he would never be able to lift weights again. But CT refused to accept this, and he continued to train and work on his strength.
In 2014, CT launched his own YouTube channel, which quickly became one of the most popular fitness channels on the platform. He continued to post videos of his workouts, and his motivational speeches, inspiring millions of people around the world.
Philosophy
CT Fletcher is known for his "Iron Addict" philosophy, which emphasizes the importance of hard work, dedication, and perseverance. He believes that anyone can achieve their goals, as long as they are willing to put in the work. CT's message has resonated with millions of people around the world, and he has become a symbol of inspiration and strength.
Legacy
CT Fletcher's legacy in the fitness industry is undeniable. He has inspired millions of people around the world to work hard, and to never give up on their dreams. CT's message of perseverance and dedication has touched countless lives, and his influence will be felt for generations to come.
In conclusion, CT Fletcher is a true legend in the world of fitness. His incredible strength, and his inspiring messages, have made him one of the most iconic figures in the industry. CT's story is one of overcoming adversity and achieving greatness through hard work and dedication. He is a true inspiration to millions of people around the world, and his legacy will continue to inspire generations to come.
In the '80s, CT managed a streak of six world champion powerlifting titles (drug-free):
3x world bench press champion (1), lifting 650 lbs.
3x a strict curl champion, which he still holds the record for.
Today, 58-year-old CT Fletcher is a brand that's gaining momentum, not only in our little world but the rest of it as well.
Fletcher grew up in a house in Compton where religion ruled supreme. His super strict Pentecostal preacher father would routinely "beat the fuck" out of him in his spare time. One thing he did gain through his strict upbringing, however, was a mental toughness and focus that enabled him to excel in bodybuilding.
His diet was completely absurd: 4 Big Macs, 4 fries, 2 shakes, and 4 apple pies – a lunch that topped 5,000 calories. Not surprisingly, emergency open-heart surgery ensued. Yet, despite technically dying on the operating table three times and requiring 24-hour care, C. T. Fletcher refuses to give up bodybuilding.
"I finally succumbed to the aortic valve heart surgery to replace the valve with an artificial one."
But he's back, he's bigger and he's stronger. At 58 years old CT still looks like a beast. He strongly claims he's all natural and that he grew his 22-inch arms 100% without touching a steroid.
In an interview for Muscle Insider Fletcher said that he tried Deca-Durabolin on 1981.
"I took that shit and I got so vascular and hard. I thought, "This is the most wonderful stuff in the world. I'm going to be Mr. Olympia! … But after six months, I was crazy as f#ck… on Deca, I was a raving f#cking lunatic."
After the request of his wife, he stopped using steroids: "I still haven't broken that promise."
Now C.T. Fletcher is a real inspiration for many athletes.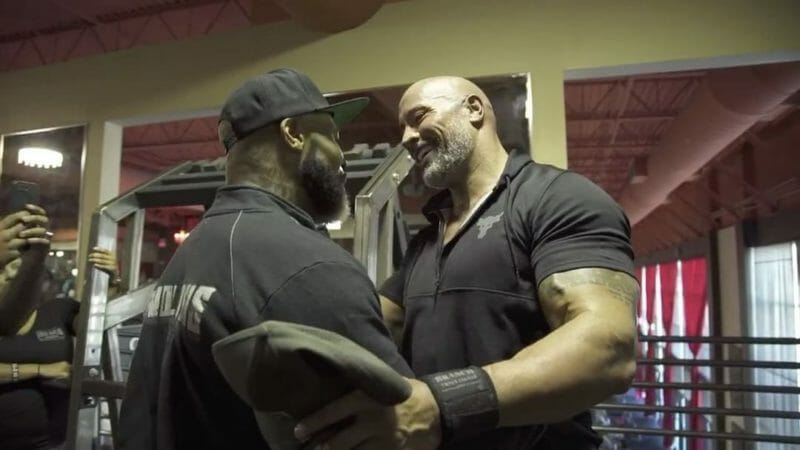 What Did Dwayne "The Rock" Johnson Say about CT:
"Intense workouts are part of my daily process. I need the intensity to anchor my day, so the last thing I want is to be interrupted… but, for THIS MAN, I will gladly stop my workout, remove my headphones and respectfully remove my hat so I can shake hands and hug @c.t.ali.fletcher.
I started tracking CT years ago. Quietly following him in the shadows and admiring the impact he's had on so many people's lives. About a year ago I watched one of the greatest documentaries I've ever seen, about his life called #MyMagnificentObession. In the doc, I was specifically moved by the relationship he had with his dad. When I shared this with CT, he then proceeds to tell me how much my dad (Rocky Johnson) influenced him growing up. Crazy how life comes full circle that way.
CT exemplifies what it means to overcome the odds and work so intensely hard at something, it becomes an obsession. But CT's real power will always be the gratitude and humility he has in his heart.
Life is crazy and busy for all of us, but when we can fuel it with a lil' gratitude and humility – life becomes that much better.. thank you for the inspiration, and as always.."