Doing sports is great. And it's even more impressive when you have someone to share your workout with.
Simeon Panda and his girlfriend have proved that fitness is beneficial for many aspects of our lives. Moreover, celebs are the ones, who should always look perfect and strictly follow their diet.
And as Psychology Today noted, working out with a romantic partner can even help you become more efficient in any particular exercise.
It is a good option not only to get the result but also to take the pleasure and don't get bored. That's why some star couples go in for sports together. And here they are:
1. Tom Brady and Gisele Bündchen
It is well known that 37-year-old Gisele Bündchen regularly visits the gym. Whereas, her 40-year-old husband is a professional sportsman, so he is familiar with physical exertions firsthand. Their favourite activities are surfing with a paddle and playing football.
2. Behati Prinsloo and Adam Levine
The 28-year-old model has repeatedly admitted that her 38-year-old husband helps her doing sports. Even in preparation for Victoria's Secret show, she trains with her musician. Now, however, the model is pregnant, so heavy workouts should be postponed for a while.
3. Nicole Johnson and Michael Phelps
Phelps, probably one of the most famous Olympians, but this does not relieve him of the need to maintain fit. The couple enjoys sharing physical activities through their videos with each other on the web.
4. Tammy Hembrow and Reese Hawkins
This pair is the top of fitness inspiration. If they are not occupied by children, they will always find the time together "to pump iron." Apparently, the teamwork here is fantastic.
5. Kevin and Eniko Hart
Kevin and Eniko Hart are extreme lovers of the sport. Apart from training couple likes to visit different matches. As they were caught in good spirits as they sat court-side at the Los Angeles Clippers versus Philadelphia 76ers basketball game at the Staples Center in LA.
6. Britney Spears and Sam Asghari
One more celebrity pair is proving swimming together well worth it.
7. Savannah and LeBron James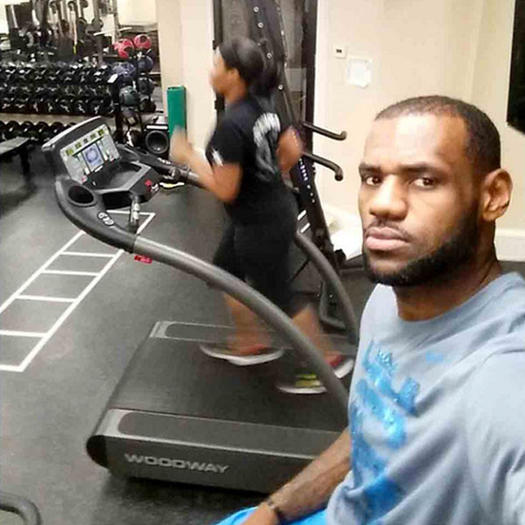 Couples who train together remain in a relationship for a long time. LeBron and his wife only confirm this fact. James shared a video where his wife worked hard to show what efforts fit-body got.
8. Jasmine Tookes and Tobias Sorensen
Victoria's angel and her boyfriend are always engaged together. Apparently, their training moved to a new level, when Tobias decided to use the companion as a barbell.
9. Nikki Reed and Ian Somerhalder
In addition to their love of nature and the environment, the couple is fond of fitness. They live a whole and happy family life, which can not be said about all the pairs of Hollywood.
10. Elsa Pataky and Chris Hemsworth
The mother of three children, Elsa Pataky, uses appropriately high-intensity training, what she regularly talks about on her Instagram account. The 34-year-old husband of the model who, by the way, was recognized as the sexiest man of the year by the magazine People in 2014, supports his 41-year-old wife in her hobby and sometimes even takes a hit. The couple is boxing (but Chris, of course, does not send his wife to the knockout) and surfing together.